Upcoming Events
Pro-Life Prayer Chain Here at Our Lady of Peace
All are invited to participate in the National Life Prayer Chain on Sunday, October 2 here at Our Lady of Peace in front of the church from 2-3PM.
We will be praying the Divine Mercy and the Rosary.
The Blessing of Animals
The Feast of Saint Francis of Assisi is October 4'th. Saint Francis has always been associated with his love of nature and of animals. It is a wonderful Catholic tradition to offer the Blessing of Animals sometime around the Feast of Saint Francis.
A special Blessing of Animals will be offered as follows in Our Lady of Peace Parish:
--SATURDAY ……. OCTOBER 8'th ………… 12 NOON
The Blessing will take place in the church parking lot in the area near the Rectory Building…..by the shrine next to the Church. We look forward to seeing you ….. and your special pet animals for this Blessing.
The Diocese of Buffalo is celebrating their 175th Anniversary of Founding this year
To commemorate this milestone every parish is asked to participate in a
Day of Prayer and Day of Service
***Mark Your Calendars***
Holy Name "Meat Raffle"
The return of our Holy Name Meat Raffle will be held here at Our Lady of Peace on Saturday, October 22 in the Parish Center. Doors will open at 5:30PM with first spin at 6:30PM. Entry Fee is $10 which includes a ticket for the door prize, beer, pop and snacks. You can also bring your own snacks. There will be a special meat package as a side raffle, a basket of booze and a 50/50 raffle.
Please Contact Luther for tickets at 716.200.9188. Thank-you!
Our Lady of Peace Church
10950 Main St. Clarence, NY 14031
Rectory - 716.759.8554
November
Non-Perishable Food Collection
List of Items needed for Clarence Food Pantry
Paper Goods, Laundry Deter, Dishwashing Liquid, Soap, Deodorant, Sugar, Flour, Oil, Condiments, Coffee, Cereal, Pasta, Canned Fruit, Snacks, Tuna, Gravy
Gift cards to Grocery Stores are welcome and may be dropped into collection basket marked food pantry or brought to the rectory. Thank-you
Mass of Thanksgiving Thursday, November 24th @ 8AM with blessing of loaves
December
Feast of the Immaculate Conception - Closing Mass with Reception
Thursday, Dec. 8 at 5:00
All Parishioners are Welcome
************************
A Message from Fr. Walter
TWENTY-SEVENTH SUNDAY IN ORDINARY TIME
Today's Gospel reminds us of the place disciples have before the Lord. Jesus uses an image from the ancient world about servants and a master. Such an image can be problematic today, but it reflects the world view of antiquity. We, as disciples, are advised to do what we are told, follow directions, and carry out what we are obliged to do. Such an image does not leave much room for self-agency, or self –determination, other than to align oneself with the Lord. And this is why the image has some challenges as we bring it to the modern world. And yet, doing the will of the Father is precisely the role of the disciple, the follower. Our task is to discern that will in our world and to carry it out, expecting nothing in return. We die to our own wants, needs and desires, noble as they might be. Instead, we follow the direction set for us, using our gifts, talents and abilities in such a way that there is not even the expectation of a thank you.
Fr. Walt
Formed
Formed is a Catholic online streaming service that provides movies, books, educational materials, documentaries, daily reflections, seasonal programs, lives of the saints, and so much more; all at no cost to our parishioners.
It is an amazing resource for our children, teens and adults that the Knights of Columbus and Holy Name members are proud to make available to everyone.
Many parishes throughout the country and in our own diocese, have made this program available to their communities and now we have it.
Use the links below to signup/view content.
Eucharistic Adoration
Every Wednesday, from 8:30am-6:00pm, in the Church
O Come Let Us Adore Him!!
The Catechism quotes Pope John Paul II: "The Church and the world have a great need for Eucharistic worship. Jesus awaits us in this sacrament of love. Let us not refuse the time to go to meet him in adoration, in contemplation full of faith, and open to making amends for the serious offenses and crimes of the world. Let our adoration never cease." (CCC, 1380)
Consider signing up for an hour to pray before the Blessed Sacrament. Adorers are always welcome to stop in and spend time with our Lord.
Parish Mobile App
The WeConnect Parish App is available on Google's Play Store and the Apple App Store.
You can easily receive messages; check the calendar, bulletins, daily readings; and make donations through the App. The App links to our Parish website.
Once you have downloaded the app, select Our Lady of Peace Parish. From the menu, go to Message Settings and toggle the switch to green to receive notifications from our Parish.
Weekly reading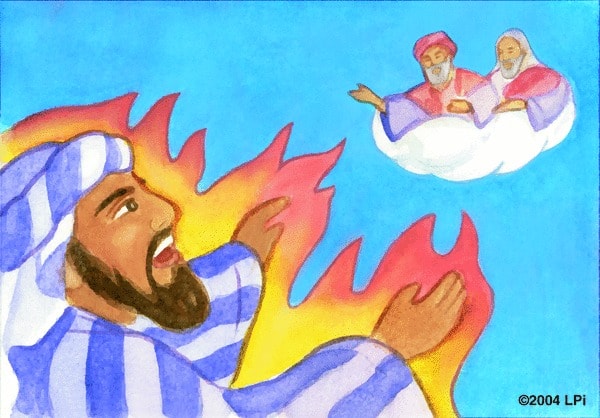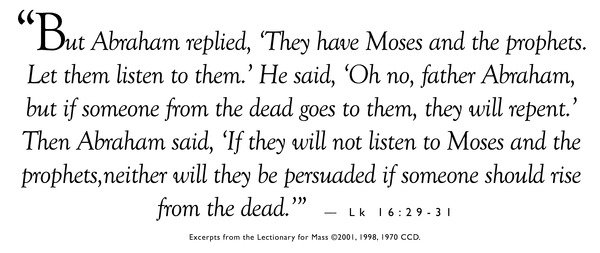 Weekly reading
Readings for the week of September 25, 2022
© Liturgical Publications Inc
Road to Renewal
The Diocese has embarked on a journey to optimize more fully parish and diocesan resources, and, importantly, increase the reach and impact of our varied ministries throughout Western New York. See the Road to Renewal website for more information.